In 2003, the yearly Shakespeare production hosted by Massey University was opened up to the Manawatū community for the very first time. The decision to move the annual event to the Victoria Esplanade, and involve the local community in the performance, was made because we knew we needed more people to experience this magical event. The first 'Manawatū Summer Shakespeare' production, The Tempest, directed by Simon Ferry, was staged in and around the duck pond in the Dugald McKenzie rose garden.  It created huge interest for its boldness and originality, despite the incredibly windy season in which actors' voices were challenged.  The following year, Ralph Johnson directed a lively and popular version of Comedy of Errors and we began to realise that Manawatū Summer Shakespeare was here to stay. 
The Visiting Artist scheme that was established around this time meant that we could begin to pay our directors a realistic and professional fee for their work. It also meant that we could entice highly skilled and award-winning directors from national and international locations. Indeed, we have had directors from Los Angeles, the United Kingdom, Chile, and Australia as well as excellent directors from Aotearoa New Zealand.
We had no idea what an iconic event Manawatū Summer Shakespeare would become. We attract huge crowds; involve highly skilled actors, technicians, designers and backstage support every year. The event has become part of the fabric of Palmerston North's art scene. There is something mystical about watching a show that begins in the early evening when the sun is still warm and creating a natural light for the performers that evolves as night descends and the theatre lights take over.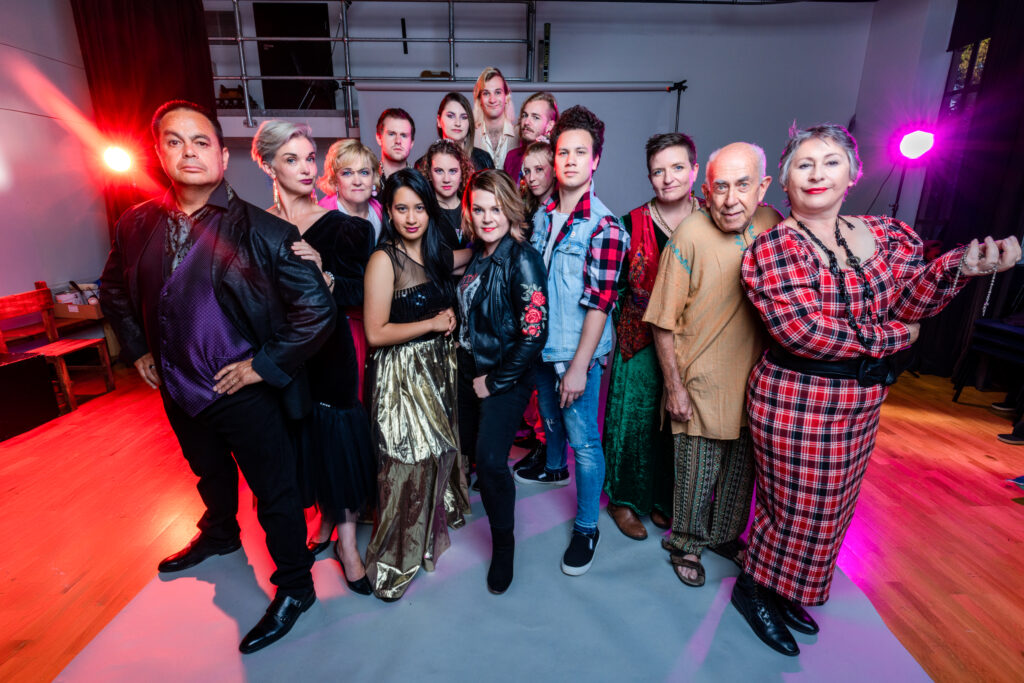 "I am really proud of what Summer Shakespeare has achieved… it has brought great people together. My hope for the future is that the Manawatū Summer Shakespeare will simply go on and on."

Angie Farrow
Past Productions
| | | |
| --- | --- | --- |
| 2022 – 2023 | Romeo & Juliet | Directed by Rhian Firmin |
| 2021 | A Midsummer Night's Dream | Directed by Mel. Cook |
| 2020 | Twelfth Night | Directed by Mel. Cook |
| 2019 | Antony and Cleopatra | Directed by Ralph Johnson |
| 2018 | The Comedy of Errors | Directed by Peter Hambleton |
| 2017 | The Winter's Tale | Directed by Sara Brodie |
| 2016 | The Merry Wives of Windsor | Directed by Kelly Harris |
| 2015 | King Lear | Directed by Jaime Dörner |
| 2014 | As You Like It | Directed by Grant Mouldey |
| 2013 | The Tempest | Directed by Vanessa Stacey |
| 2012 | Much Ado About Nothing | Directed by Amanda McRaven |
| 2011 | A Midsummer Night's Dream | Directed by Jaime Dörner |
| 2010 | Macbeth | Directed by Paul McLaughlin |
| 2009 | All's Well That Ends Well | Directed by Peter Hambleton |
| 2008 | Romeo and Juliet | Directed by Ralph Johnson |
| 2007 | Hamlet | Directed by Lilicherie MacGregor |
| 2006 | Twelfth Night | Directed by Ryan Hartigan |
| 2005 | Love's Labour's Lost | Directed by Penni Bousefield |
| 2004 | The Comedy of Errors | Directed by Ralph Johnson |
| 2003 | The Tempest | Directed by Simon Ferry |